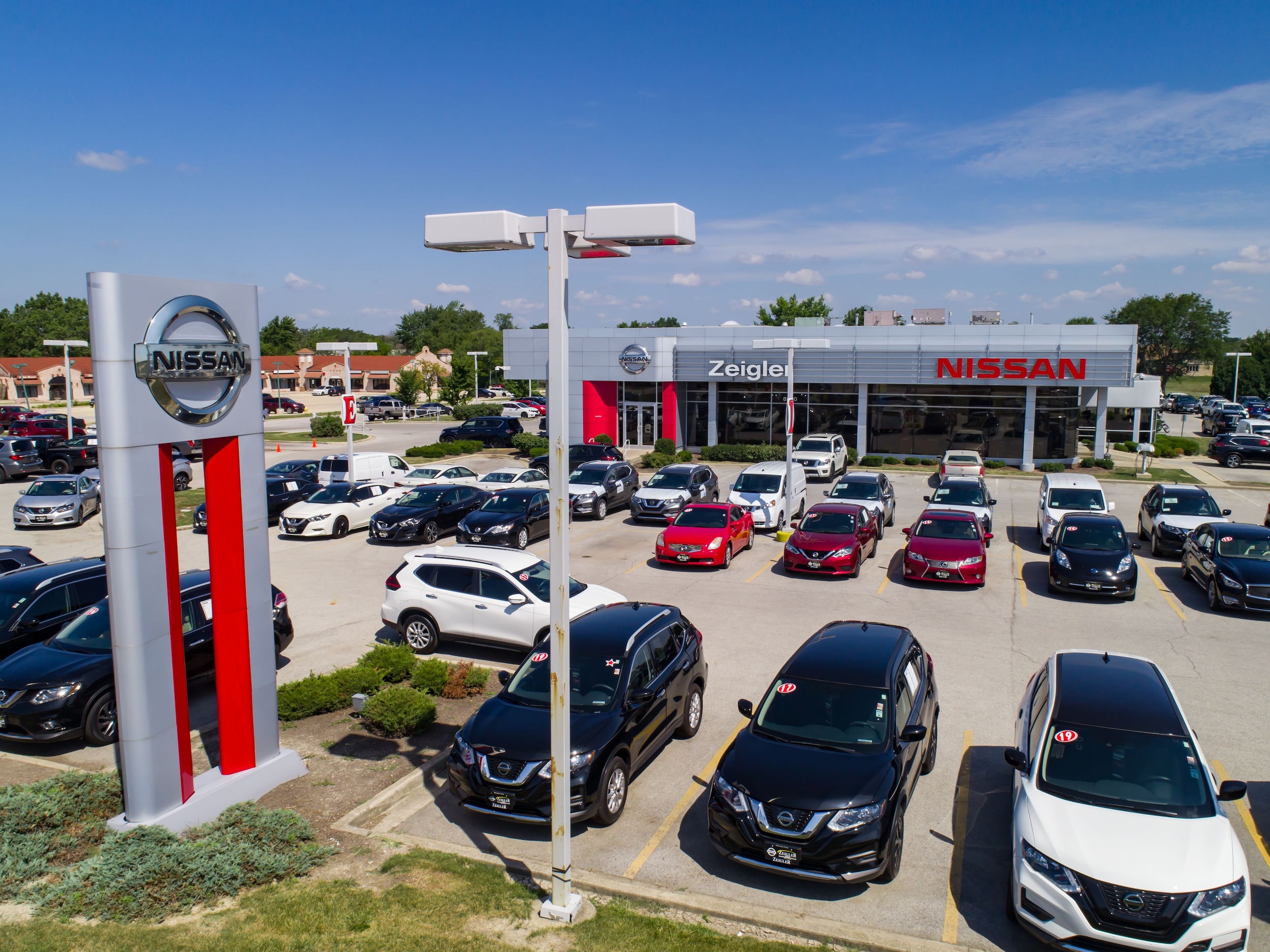 Zeigler Nissan of Orland Park Dealership of Orland Park is a car dealer with over 40 years of experience. Thanks to our professional approach and constant improvement, we have expanded our work beyond the territory of Orland Park, and we are successfully serving the surrounding areas.
Take a ride to us, and walk through our modernly equipped Nissan dealership that will fascinate you with its huge inventory of the new and used vehicles.
Zeigler Nissan of Orland Park - Areas Served
New Inventory
Zeigler Nissan of Orland Park is a Nissan dealership that offers a wide choice of new Nissans at the best prices. Whether you want a new Nissan car, SUV, truck or van, you will find it here at very affordable prices.
Used Inventory
Zeigler Nissan of Orland Park, IL, is also a used car dealer, so in our rich offer, you can find used and certified pre-owned vehicles that meet all the criteria of quality and reliability. In our used inventory, we offer Nissan Altima, Maxima, Rogue, Titan and many others Nissan models, as well as used models from other manufacturers, including Hyundai, Chevy, Toyota, BMW, Ford, and other well-known brands.
Finance Center
We have prepared for you fantastic offers and discounts, as well as a wide variety of financing options so that every fan of Nissan could have a chance to sit behind the wheel of his favorite Nissan model.
Service Center
In addition to our huge offer of new and used vehicles and fantastic terms for buying and leasing cars, the Zeigler Nissan of Orland Park, IL, also has a Nissan Service Center to provide a complete service to its customers in Orland Park and its surroundings. A team of certified experts from our Service Center will take care of all your Nissan needs, whether it needs regular maintenance, fast multi-point vehicle inspection, auto parts replacement or repair.
Our Nissan Service Center is well equipped with the latest generation of diagnostic equipment to provide you with the best service and eliminate even the smallest breakdown. Our technicians are trained to work on your Nissan, so you can be sure that they will put all their experience and skills in order to keep your Nissan running smoothly for a long time.
We respect quality, so all the auto parts we use are genuine auto parts made for your Nissan. We also provide online ordering of auto parts, so in just a few steps you can order the car part you need, and in a short time we will provide you with original auto parts at very affordable prices.  AND, we offer pick up and delivery service within 10 miles of our dealership.  
Why Zeigler Nissan of Orland Park?
If you haven't yet found Nissan of your dreams, it means you have not yet visited Zeigler Nissan of Orland Park car dealer. Do not waste your time looking around, when there, in your neighborhood is such a reliable and established dealership that will make every effort to provide you with complete service and a pleasant shopping experience.